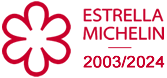 El Serbal, was born in 1999 in an emblematic and centrical quarter called Puertochico, at heart of Santander city. Three years later and after a warm acceptance, the restaurant got involved in its first refurbishment based on facilities upgrade, the dinning enlargement and also the inauguration of the wine cellar with more than 500 references of wines all around the world, and open to any client interested on visiting it.
"El Serbal" exquisite and refined cuisine is taking advantage of greats products of Cantabria area, developing creative and refined dishes do not forgetting nevertheless the lifelong tastes and flavours.
Among its most emblematic bites there are some as Steak Tartare and French Banana Flambé, with not detracting from the small details that being the icing on any meal as artisan homemade breads, an international cheeses selection or its carts with selection of coffees and infusions or with liquors and mixed drinks.
Modern decoration in warm colours, wide distance among tables, a carefully and attentive service… Conjunction between high cuisine and the atmosphere of El Serbal have contribute to its Michelin Star, which has been displayed on the facade of this Santander's restaurant since 2003.
Our greatest value is the people, the human team that shapes the dream of El Serbal. Since 1999 we have grown with the talent and passion of many of them and they have all left their mark in our kitchen or dinning. This is part of our staff, which every day express their creativity and effort to offer a unique experience during your visit to the restaurant.